About
Gold Star was founded in 1981 by Randy Giminez. Randy's goal with the business was to better help small business and farmers to get the best tax and financial advice available. As a locally owned business involved in the community, Gold Star would provide a more personalized service than the corporate alternatives. Randy's son, Saul, the current owner continues this philosophy today. Gold Star has provided this personalized service to Hillsdale County residents and beyond for over 3 decades. Current remote services technology allows Gold Star to have an even broader reach to connect with more customers throughout Michigan, Indiana, and Ohio.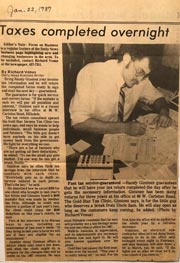 What Makes Gold Star #1 in Hillsdale?
Year Round Support
Our office is open year round because we realize your life does not stop on April 15. So neither does ours.
Money Back Guarantee
We will give you the most accurate return possible, optimized to your specific situation. However, in the unlikely event that our office makes an error which causes you to pay more to the IRS or State taxing authority, we will not only reimburse you 100% of the penalties and interest charged but we will also refund you 100% what you paid us to file your return for that year.
Audit Assistance
If the IRS audits you for a return we prepared, we will accompany you to the audit to offer assistance by explaining how the return was prepared.
Correspondence Assistance
We will help you handle all IRS and state tax return correspondence that you get, including audits, letters and inquiries about your tax return.
Free Copies
At any time, you can get copies of your paid tax return for free.
Monthly E-Newsletter
We will email you our monthly tax tips newsletter to help keep you informed on the always changing tax laws.
Private Offices
Each one of our tax professionals has their own private office. Not a cubicle where you can hear everyone else's information and they can hear yours. We take client confidentiality very seriously.
Fast
Individual returns are typically finished before you leave our office and are electronically filed that night. We offer Direct Deposit, which means you could have your refund in as little as 10 days. Not fast enough? Super fast refunds can be up to $6,000 on the same day!
No Up Front Costs
We offer certain bank products, which can have your tax preparation fee automatically taken out of your refund.